Whether you're an aspiring entrepreneur, a seasoned business professional, or a dedicated home inspector looking to stay ahead of the curve, this exploration offers valuable knowledge to enrich your journey.
In this article, our research team has compiled statistics and upcoming home inspection trends and patterns in the real estate and home inspection industry in the next 5-10 years. Let's explore what the future of home inspection industry may look like in 2024, offering valuable insights and statistics to help you navigate the evolving landscape of this dynamic industry.
Home Inspection Industry Statistics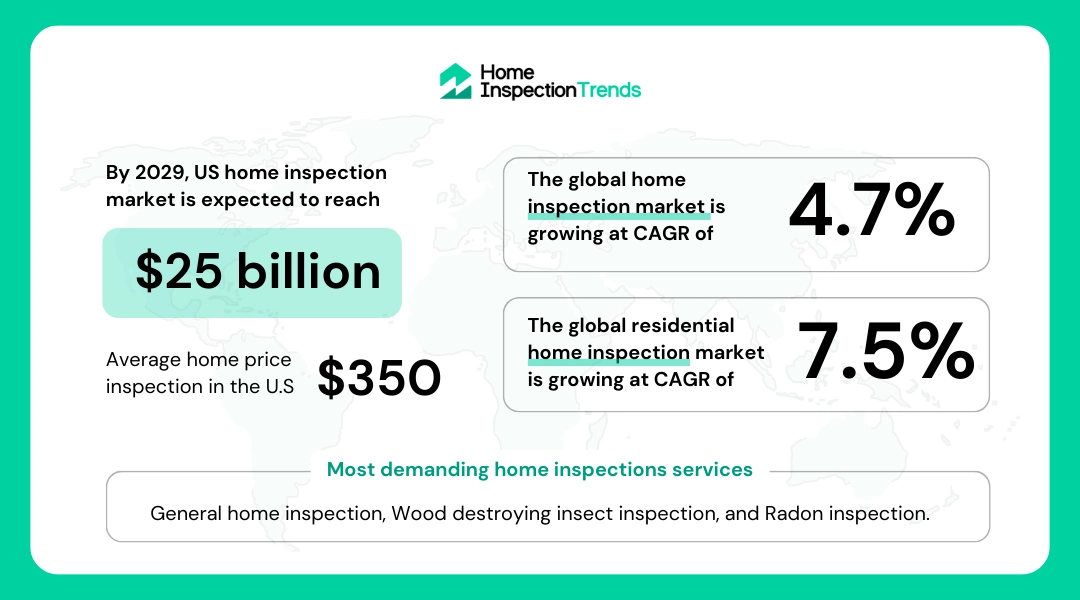 Here are some important home inspection statistics to highlight the current and projected state of the home inspection industry:
The global

home inspection

market is on an upward trend, with a Compound Annual Growth Rate (CAGR) of 4.7% expected to reach $24.3 billion by 2026.
The global

residential home inspection

market is expected to reach $100 billion by 2029, growing at a CAGR of 7.5% from 2023 to 2029.
The demand for home inspections and home inspectors is expected to grow in 2024.
US home inspection market is expected to reach $25 billion by 2029, growing at a CAGR of 8% from 2023 to 2029.
The largest market for home inspections is the United States, followed by Canada, Europe, and Asia-Pacific.
The majority of home inspections are carried out by independent contractors who offer their specialized expertise.
On average, a home inspection in the United States is priced at approximately $350.
The most demanding home inspections services are:- General home inspection, Wood destroying insect inspection, and Radon inspection.
Home Inspection Industry Trends
Now that we've laid the foundation with statistics, here are some upcoming trends shaping the future of home inspection industry in 2024:
1. Market Growth Amid Real Estate Strength
As the real estate market continues to thrive, so does the home inspection industry. The two are intrinsically linked, and a robust real estate market fuels the demand for home inspections.
2. Technological Advancements
Technology is playing an increasingly prominent role in home inspections. Expect innovations like digital reporting, drone-assisted inspections, and smart home evaluation tools to drive industry growth.
3. Green Home Inspections
In an eco-conscious era, the demand for green home inspections is surging. These assessments evaluate a property's environmental impact, including energy efficiency and water usage, aligning with the sustainability aspirations of many homeowners.
4. Pre-listing Inspections
Pre-listing home inspections are gaining popularity. Sellers are opting for these inspections before listing their homes for sale, identifying and rectifying potential issues in advance to facilitate smoother transactions.
5. Investor Interest
Investors are turning to home inspections as a vital part of their due diligence process. They rely on inspections to assess the condition of properties they're considering for purchase, ensuring their investments are sound.
Factors Influencing the Home Inspection Industry in 2024
Several factors could sway the trajectory of the home inspection industry:
Real Estate Market- The health of the real estate market remains a pivotal factor. If it stays robust, the demand for home inspections is likely to remain robust.
Regulatory Changes- Keep an eye on any shifts in regulations or laws related to home inspections, as these could significantly impact the industry.
Economic Conditions- A strong economy typically leads to increased home sales, which, in turn, drives demand for home inspections.
Home Buying Trends, Statistics and Demographics in 2024
Understanding the demographics and trends of homebuyers is crucial for those involved in the home inspection industry:
The average homebuyer in 2024 is expected to be 34 years old.
The majority of homebuyers are expected to be millennials.
The average down payment for a home in 2024 is expected to be 10%.
The average mortgage interest rate in 2024 is expected to be between 6.5 to 6.8%.
The average home price in the US is expected to reach $385,000.
Real Estate Statistics
Finally, here are some more real estate statistics to help you prepare for and understand upcoming market trends:
The housing market in the United States is expected to remain strong in 2024, with home prices continuing to rise.
The inventory of available homes for sale is expected to remain low, putting upward pressure on prices.
Mortgage interest rates are expected to remain relatively low, making home purchases more affordable for buyers.
In 2024, the millennial generation is expected to remain a major driver of the housing market.
Home inspections have increased by 6% so far in 2022, the largest increase in any year since the pandemic.
Only 14% of buyers have waived a home inspection, the lowest percentage in five years.
---
In conclusion, the home inspection industry is on track for significant growth in 2024 and beyond, driven by a strong real estate market, technological advancements, and shifting buyer demographics. Staying informed and adapting to these trends and statistics will be crucial for both newcomers and industry veterans to thrive in this ever-changing landscape.
Remember that the key to success in the home inspection industry is not just knowledge, but the ability to adapt and provide value to clients in a constantly evolving housing market.